MAINTENANCE ENGINEERING HANDBOOK
MAINTENANCE ENGINEERING
HANDBOOK
Pages: 1244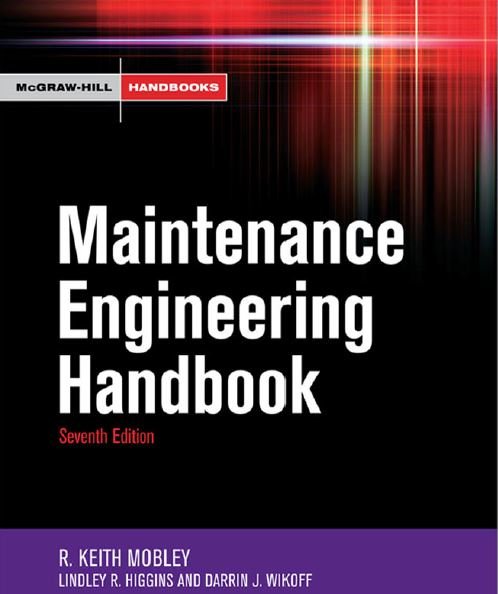 Contents:
Section 1 Organization and Management of the Maintenance
Function
Chapter 1. Redefining Maintenance—Delivering Reliability Scott Franklin 1.3
Chapter 2. Introduction to the Theory and Practice of Maintenance
R. Keith Mobley 1.9
Chapter 3. Maintenance and Reliability Engineering R. Keith Mobley 1.17
Chapter 4. Cooperative Partnerships Jeff Nevenhoven 1.23
Chapter 5. Effective Maintenance Organizations Randy Heisler 1.31
Chapter 6. Operating Policies of Effective Maintenance Tom Dabbs 1.39
Chapter 7. Six Sigma Safety: Applying Quality Management Principles
to Foster a Zero-Injury Safety Culture Michael Williamsen 1.55
Section 2 The Horizons of Maintenance Management
Chapter 1. Corrective Maintenance R. Keith Mobley 2.3
Chapter 2. Reliability-Based Preventive Maintenance R. Keith Mobley 2.7
Chapter 3. Predictive Maintenance R. Keith Mobley 2.19
Chapter 4. Reliability-Centered Maintenance Darrin Wikoff 2.35
Chapter 5. Total Productive Maintenance R. Keith Mobley 2.41
Chapter 6. Maintenance Repair and Operations—Storeroom Excellence
Wally Wilson 2.59
Chapter 7. Computerized Planning and Scheduling Thomas A. Gober 2.79
Chapter 8. Computer-Based Maintenance Management Systems
R. Keith Mobley 2.91
Section 3 Engineering and Analysis Tools
Chapter 1. Economics of Reliability Robert Fei
You can download this book from the first link on website comments Like this photo.